Patio Direct competitors in the Florida area include Patio Shoppe, Patio Shop, Carls Patio, Carl's Patio, Sunniland Patio, Casual Patio, Patio Furniture Outlet, Pipefine, Pipeline, Tropical Wicker, Patio Furniture Warehouse, Wilde's Patio, Leader's Casual, Robb & Stucky Patio, Berry Patio, Berry's Patio, Jerry's Patio, Dr. Strap, Brian's Patio, Patio Gallery, Palm Casual and Naples Patio for Patio Furniture

or Pool

Furniture.
Welcome to Patio Direct, Florida's finest Patio Store. Patio Direct offers distinctive patio furniture and accessories to accommodate your casual / outdoor settings and your budget. Patio Direct provides your best value for aluminum sling patio furniture, cushion deep seating aluminum patio furniture, commercial grade aluminum and vinyl strap patio furniture, cast aluminum patio furniture, PVC cushion patio furniture, PVC sling patio furniture, commercial grade PVC and vinyl strap furniture, patio umbrellas, market umbrellas, patio dining sets, patio conversation areas, loveseats for the patio, gliders for the patio, sofas for the patio. chaise lounges, recliners, ottomans, serving carts, glass tables, fiberglass tables, faux stone tables, mosaic tables, coffee tables, cocktail tables, side tables, PVC outdoor lamps, towel racks and towel bars, waterfalls, replacement pumps for waterfalls and ponds, replacement parts for patio furniture (plastic glides for patio furniture, sling rail caps for patio furniture, replacement vinyl straps for patio furniture, replacement slings, replacement cushions and number of other patio furniture repair parts).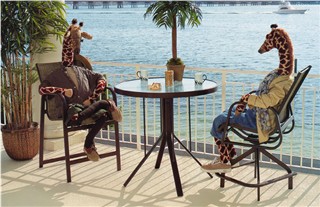 You don't have to be a giraffe to see over the handrail of your balcony or terrace ....Patio Direct has solutions.

If your home or vacation property is a condominium or apartment -- and your balcony or terrace has limited space -- consider our balcony height sets and bar height sets for enjoying your view of paradise. These solutions recognize the the balcony handrails often block your view at dining height chairs.
Balcony Height solutions are designed with table heights of 35" to 36".
Bar Height solutions are designed with table heights of 40" to 42".
Balcony Height Sets (Table Height 35" - 36")

Balcony Height Table (30" Round Glass - no umbrella hole)

Casual Creations

#K770GR

Balcony Height Table (30" Square or Round Faux Stone - with or without Umbrella Holes)
Special Order from Patio Direct
Balcony Height Table (36" Round Glass - no umbrella hole)

Casual Creations

#K776GR

Balcony Height Table (36" Square or Round Faux Stone - with or without Umbrella Holes)
Special Order from Patio Direct
Island Bay Cushion Balcony Height Swivel Bar Chair

Windward

#3839

Barcelona Sling Balcony Height Swivel Bar Chair

Casual Creations

#4576

Bonaire Sling Balcony Height Swivel Bar Chair

Island Bay Sling Balcony Height Swivel Bar Chair

Windward

#3809

Siesta Sling Balcony Height Swivel Bar Chair

Casual Creations

#6777R

Siesta Balcony Height Bar Chair

Casual Creations

#6775

Bar Height Sets (Table Height 40" - 42")
Island Bay Cushion Swivel Bar Chair

Windward

#3739

Bonaire Sling Swivel Bar Chair
Casual Creations

#6170B

Island Bay Sling Swivel Bar Chair

Windward

#3809

Siesta Sling Swivel Bar Chair

Casual Creations

#6770B